If you're a glasses wearer and have given up on wearing false eyelashes because they just bat against your frames all day, you needn't worry.  You can definitely still get a great, dramatic looking eye with false eyelashes, simply by selecting a pair that isn't quite as long, or that features a dramatic upward curl which will prevent them from hitting your glasses.  If you do select a pair that is too long and hits your glasses, you can trim them to fit if you don't want (or cannot) return them.  You don't have to toss them into the garbage!
 Whether you're a full time glasses person, or you simply wear them for stylistic purposes or when you can't be bothered with contacts, we understand you still want your lovely lashes.  The only real issue is that occasionally, the wrong pair of false eyelashes can drive you crazy while wearing your glasses at the same time.  This happens when the lashes are too long and/or thick.  When they're too long and thick, they hit your lenses and can even crush or crumple against them.  This is bad for your glasses and for your ThinkShow lashes, which are reusable up to 30 times if they are properly cared for and stored.  Lashes that crush or scrape your lenses aren't being properly cared for and you'll significantly shorten the lifespan of the lashes if you wear them with your specs.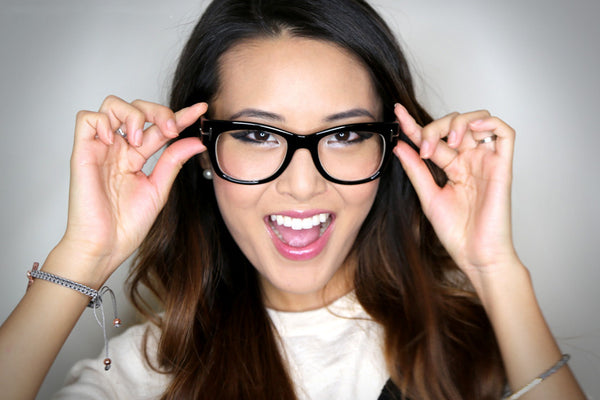 So what can you do?  You can pick the perfect set of lashes for your glasses.  Here's how:
Don't go overly dramatic. 
Sure those two inch long faux mink lashes are amazing, but do you really need them for work?  Probably not.  And if you're planning to wear your glasses with them, think again.  They're only going to drive you crazy and obstruct your line of vision when they scrape up and down against your lenses. Instead, opt for false eyelash sets that are
subtly dramatic
.  These types of lashes are usually shorter than a typical pair of false eyelashes, yet no less dramatic.  This makes them the perfect solution for glasses-wearers, because they shouldn't touch the ends of their frames. 
Opt for less dense lash strips. 
Unless you're getting ready for a photo op, you don't actually need a lash band that boasts 5000 lash fibers.  Remember, your goal is eyelash enhancement; you'll still get a super noticeable look with a lash band that has less fibers.  Less fibers can help if your lashes are just a little too long or if the lash band features lashes in varied lengths.  The longer fibers will barely touch the ends of your glasses, but you likely won't notice if the fibers aren't incredibly thick. 
A great pair of lashes for glasses wearers are sets that feature a really tight
upward curl
.  A tight, upward curl will not only help open your eyes more, they'll prevent the lash fibers from hitting your glasses, allowing you to wear lash sets that are slightly longer than you'd be able to wear if the lash fibers were not curled.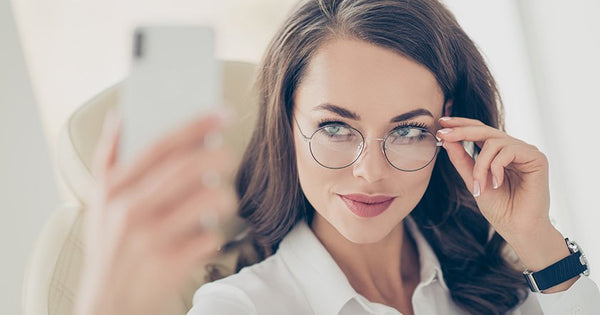 What if you've already got some lashes you'd like to wear with your glasses, but they're just super long.  
You can attempt to get a long pair of lashes to fit more properly by curling them with an eyelash curler.  This can help especially if you have a set of false eyelashes that isn't all one length.  If the fibers are different lengths and you are able to curl the lashes, then the lengthier fibers won't end up hitting your glasses' frames.
If you have a pair of false eyelashes you just really want to wear and they're just super long, you can take a pair of scissors and trim the ends a bit.  Be careful here; remember you can always trim more off, but you can't put back what you've trimmed.  Once you've done a small trim, try the lashes on to see if the problem is fixed.  If not, trim a little more. 
If you need to wear your eyeglasses while you apply your lashes, that's possible too.  Simply move your specs down low toward the tip of your nose and apply your lashes using a magnifying mirror.  You should be able to see the lash band and your lash line clearly and be able to apply your lashes easily. 
Wearing false lashes if you wear glasses is a totally viable option.  You don't have to settle for your natural lashes just because you're wearing corrective lenses.   Selecting the appropriate length and thickness for your false eyelashes is the most important step you can take if you wear glasses.  You can also consider curling or trimming the lashes if they are too long, although this can cause the lases to look less natural.  If you wear contacts, ensure the lash glue is hypoallergenic and be careful when applying.  If you follow these tips you'll be able to wear false lashes without any issues.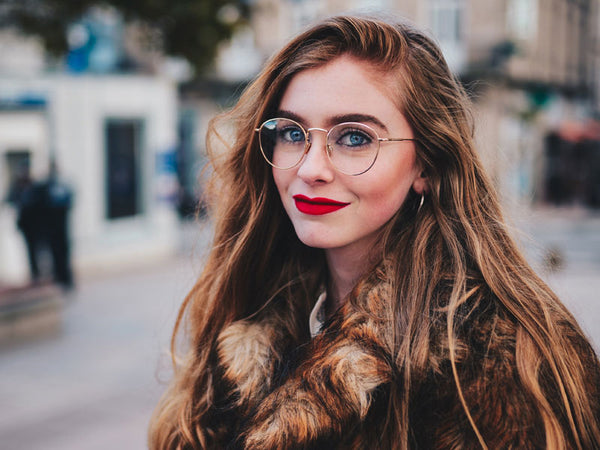 Allow me to recommend ThinkShow the best lashes for your glasses, these styles are perfect if you want a natural glam look that turns heads.
Magnetic Lashes
3d-mink-lashes
---